Dr. No (1962)
James Bond movies represent a veritable catalogue of architectural modernism, with the villain's lairs in particular embodying the forefront of cutting-edge design. As such, James Bond movies can be considered phantasmagorias, allowing audiences to imagine the future of architecture. From a faux volcano /rocket launch pad off the coast of Japan to a surveillance data centre in central London, the James Bond villain has deftly evolved from its initial function as a manifestation of a paranoid Cold War society to a manifestation of the collective fears surrounding the demise of western civilization. The lairs therefore act as architectural constructs of popular anxieties of the 20th and 21st centuries.

The set of drawings of the villains´ lair from the first James Bond film "Dr. No" recounts the scheme of the villain alongside the lair to facilitate his respective plan. The accompanied drawing package includes a set of plans, sections, elevations and perspectives that facilitate the Villains narrative scheme. The drawing package serves several important functions, first through the use of traditional architectural representation techniques the lair is completed based on fragmented movie scenes thus creating an original piece of architecture. Furthermore the drawings describe manners in which the lair acts as an instrument of execution in a grand scheme. New types of architectural conditions emerge exposing the correlating political context that gave birth to such visions.
Lair location:
The Island of Crab Key Jamaica
Lair Program Nuclear reactor, 5 star hotel for personal guests of Dr. No, prison, offices, bauxite mine and radio jamming center
Press:
urbanNext
,

---
Villain: Dr. No. is a scientist who was an unwanted child of a German missionary and a Chinese girl from a proper family. Dr. No later became treasurer of the most powerful criminal society in China; the Tongs. Dr. No stole $10,000,000" of Tong gold bullion and fled to America. No specialized in radiation. He offered his skills and expertise to the Americans and Soviets, but was rejected. To get revenge, No joined the criminal organization SPECTRE and relocated to his island in Crab Key, Jamaica.

Plot: Dr. No is part of the criminal organization SPECTRE. Dr. No wants to get revenge on the American and Soviets for rejecting his specialized skills in radiation. He therefore is intercepting and causing NASA rocket disasters at Cape Canaveral to get even. To do this he has built his nuclear facilities underneath a bauxite mine on his private island in Jamaica. The facilities also include lavish dwelling quarters and a radio jamming center. The lair exemplifies state of the art modern architecture for its time.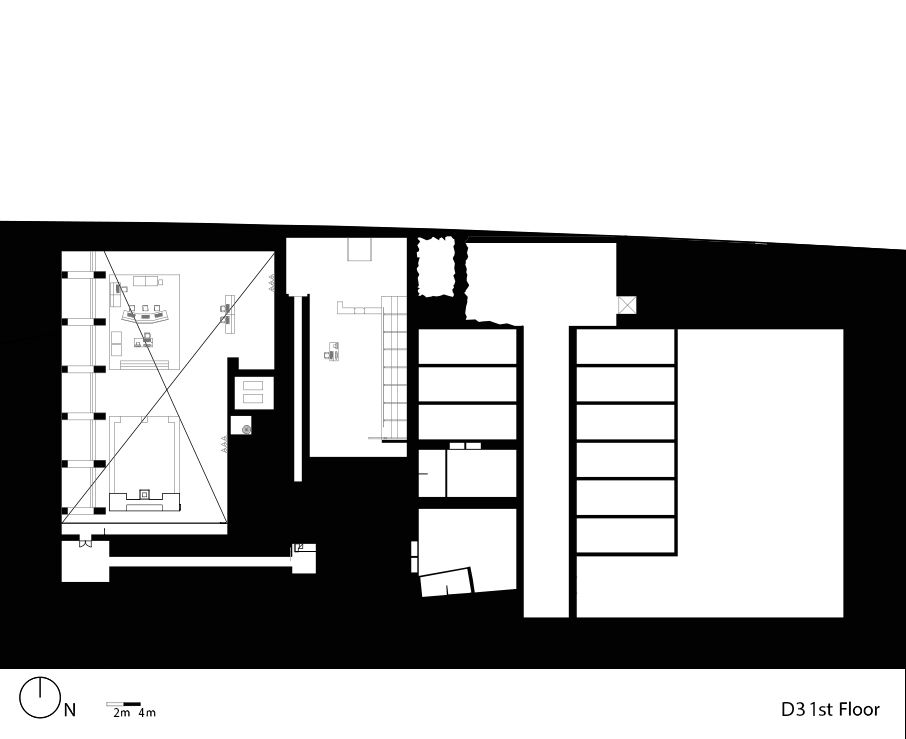 Political context: One can argue "Dr. No" embodies the west´ anxieties over the Cuban missile crisis. Shot in 1962 just south of Cuba the scheme and the lair is a construct of the Wests´ fears of the nuclear energy, state of the art technology out of the space race and some form of foreign capital to fund all this.

Architectural outcome- On opacity What is interesting to note is the use of opacity as a formal language for architecture. This lair is hidden within and underneath the respective bauxite mine of Dr. No. Nothing appears to be what it seems. Even the nuclear decontamination center is of five star quality and almost resembles a lab/spa. The bedrooms at first glance appear as a 5 star hotel, when in reality the doors can only be opened from outside- thus they can be perceived as a prison. Within the bauxite mine there is a special room where Dr. No gives out commands verbally via a speaker, however guests cannot see him. When James finally meets Dr. No it is in his personal quarters some 60m under the sea. Even within Dr. No´s quarters the window that faces the underwater landscape is curved in a convex fashion, thus everything outside appears to be larger than it really is. Furthermore various types of programmatic functions are set adjacent to one another i.e. five star hotel prison and nuclear reactor or bauxite processing plant and command room, yet these programmatic adjacencies could not be any more different from one another. Perhaps the most striking aspect from this is that rather than co-mingling these different functions within the complex they are set out to do the opposite. The divided various programs that may be beside one another are physically segmented, in most instances one programmatic function is unaware another room with a completely different function exists beside it. This becomes especially apparent when drawing the plans and completing the full architectural complex from fragmented movie scenes